Beacon of Excellence Awards
The Beacon of Excellence Awards have been designed to honor outstanding community enrichment through service, leadership and achievement. Nominations are sought from MRCC membership as well as from the community at large.
The Monmouth Regional Chamber of Commerce is proud to recognize this year's honorees - individuals and organizations who have made a positive impact on the citizens of Monmouth County.
Be the change you wish to see in the world.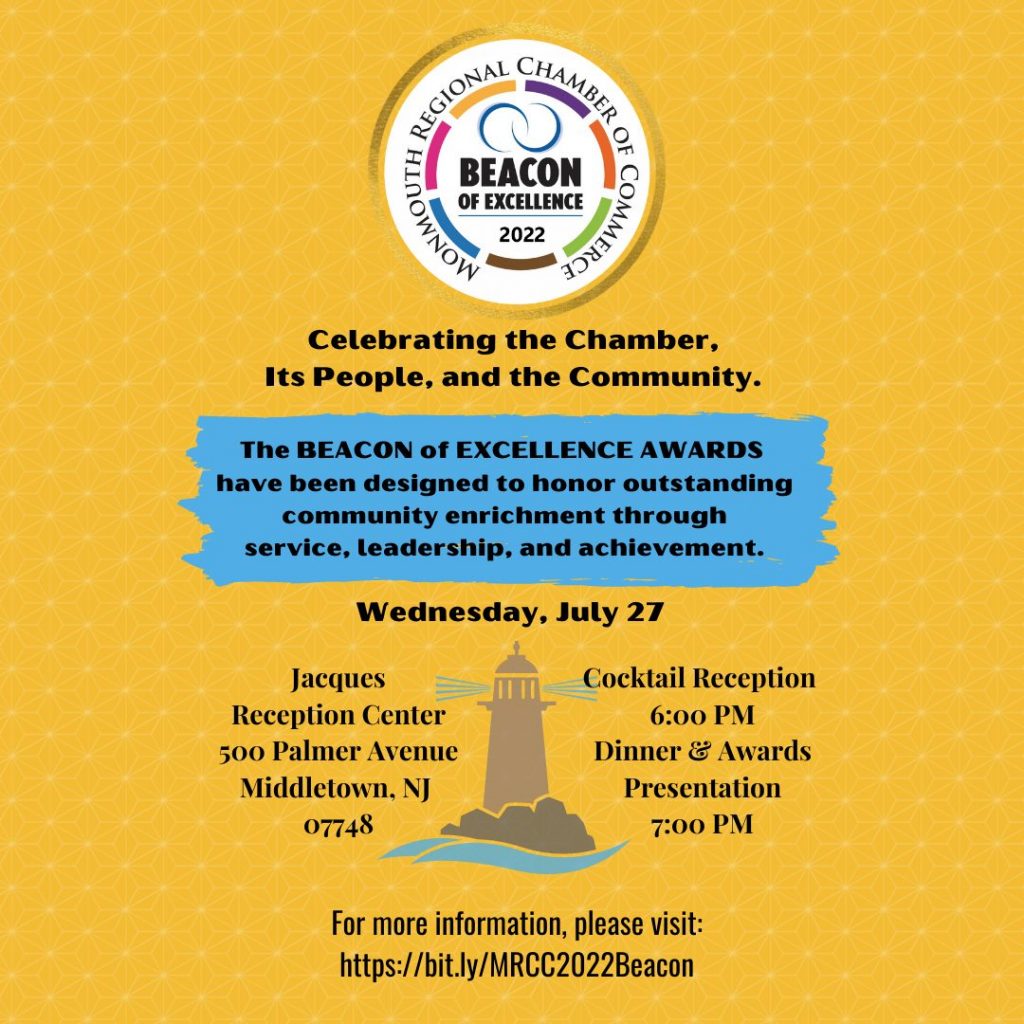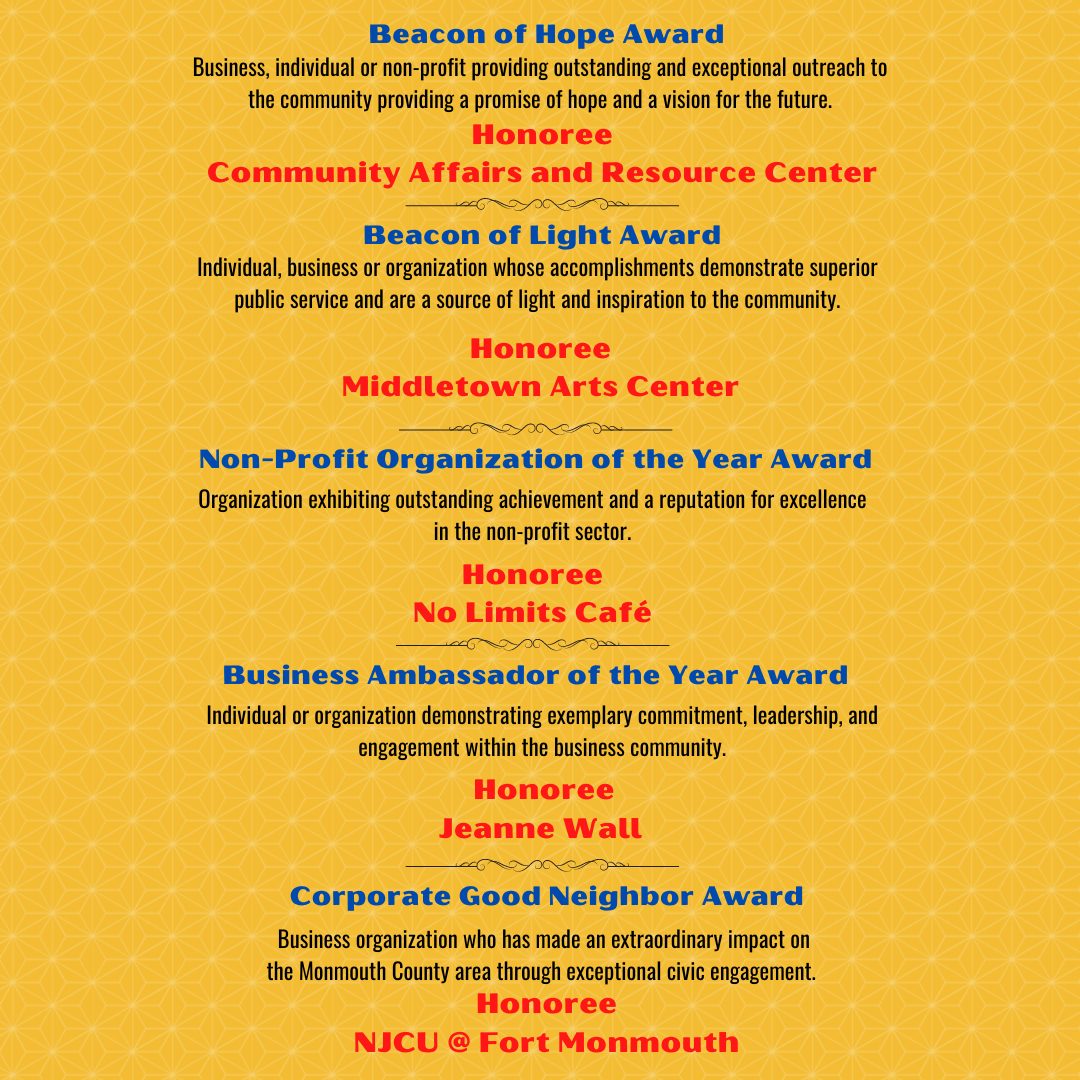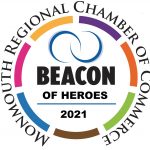 2021 Beacon of Heroes Honorees
President's Award
Monmouth County Board of County Commissioners
Beacon of Light Awards 
Bayshore Medical Center
CentraState Healthcare System
Jersey Shore University Medical Center
Monmouth Medical Center
Riverview Medical Center
Visiting Nurse Association of Central Jersey Community Health Center
Mental Health Association of Monmouth County
Beacon of Hope Award 
Kevin T. McNamara, Esq., and All Those Affected During the Pandemic
"We were so proud to be the co-chairs of this event honoring our local heroes whose tireless, inspirational, and often courageous deeds helped us through one of the most challenging times this country has ever had to endure," stated event co-chair Gerry Viggiani. "It was a beautiful and moving celebration!" Added co-chair Holly Schult, "The decision to honor those who selflessly served Monmouth County residents and businesses was a unanimous one for the committee. To be able to show all our heroes how very much they are appreciated was heartwarming. It was a very special night."
Schult and Viggiani expressed their gratitude to everyone who lent their support to the memorable evening, including their tireless event committee team, fellow MRCC officers and members, One of a Kind Events, Tom Zapcic Photography, and the staff of Bella Vista Country Club. Special thanks went to the generous event sponsors, including CentraState Healthcare System, Hackensack Meridian Health, Artis Senior Living Eatontown, New Jersey Natural Gas, TD Bank, Windels Marx, Mental Health Association of Monmouth County, Monmouth Medical Center/RWJ Barnabas Health, Sterling National Bank, The Jewish Home for Rehabilitation & Nursing, VNA Health Group, BCB Bank, Mark Viggiani/Berkshire Hathaway Fox & Roach Realtors, Lotus Blossom Psychotherapy, NJ Senator Declan O'Scanlon, Colella Communications, and Cowleys Pest Services. Additionally, numerous other supporters contributed to the Beacon of Heroes ad journal.
About the Monmouth Regional Chamber of Commerce
The Monmouth Regional Chamber of Commerce is a non-profit volunteer organization that serves as a resource leader for businesses and the Monmouth County community. Visit the MRCC website at www.monmouthregionalchamber.com or contact the chamber at info@monmouthregionalchamber.com. You may also follow the Monmouth Chamber of Commerce on Facebook at https://www.facebook.com/MonmouthRegionalChamberofCommerce and subscribe to their YouTube channel at http://bit.ly/MRCCYouTube
Click here for the full 2021 Beacon of Heroes Awards Photo Gallery
2019 Beacon of Excellence Honorees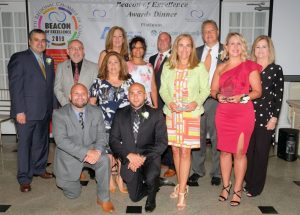 A big CONGRATULATIONS to each of our 2019 Beacon of Excellence Honorees!
Beacon of Hope: Hazlets' Hope Network (Laura O'Hara, Philip Michael O'Hara)
Businesswoman Leadership Award: DonnaLyn Giegerich of DLG Consulting;
Young Professional: Danielle Bagdzinski of Cg Tax, Audit & Advisory;
Non-Profit Organization: RAINE Foundation (Patti Dickens, Matt Dickens);
Business Ambassador: Dr. David Stout, Brookdale Community College;
President's Award: Cliff Moore;
Corporate Good Neighbor: Holly Schult of BCB Bank;
Beacon of Light: New Jersey American Water (Justin Cheptra);
Public Servant: Monmouth County Freeholder Director Tom Arnone (not pictured)
Also pictured: Bernice Lopez , President MRCC; David M. Salkin, Executive Director MRCC
2018 Beacon of Excellence Honorees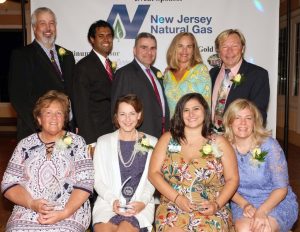 Congratulations to the Beacon of Excellence Honorees!
(L to R) Top Row:
Beacon of Hope – Gary Weitzen from Parents of Autistic Children;
Public Servant Award – Vin Gopal;
Business Ambassador – Glen J. Delakian, Sr.;
Non-Profit Organization – Kick Cancer Overboard, Founders DonnaLyn Giegerich & Ted Friedli
(L to R) Bottom Row:
Community Service Award – Bayshore Senior Health,
Education and Recreation Center, Pat McCarthy;
Corporate Good Neighbor – New Jersey Natural Gas, Amy Cradick-VP of Government Affairs & Policy;
Young Profession Award – Alexandra Imtanios;
President's Award – Sherilyn Przelomski
Not pictured: Beacon of Light – Staff Sergeant Eduard Santiago, United States Army & Public Servant Award – Sheriff Shaun Golden